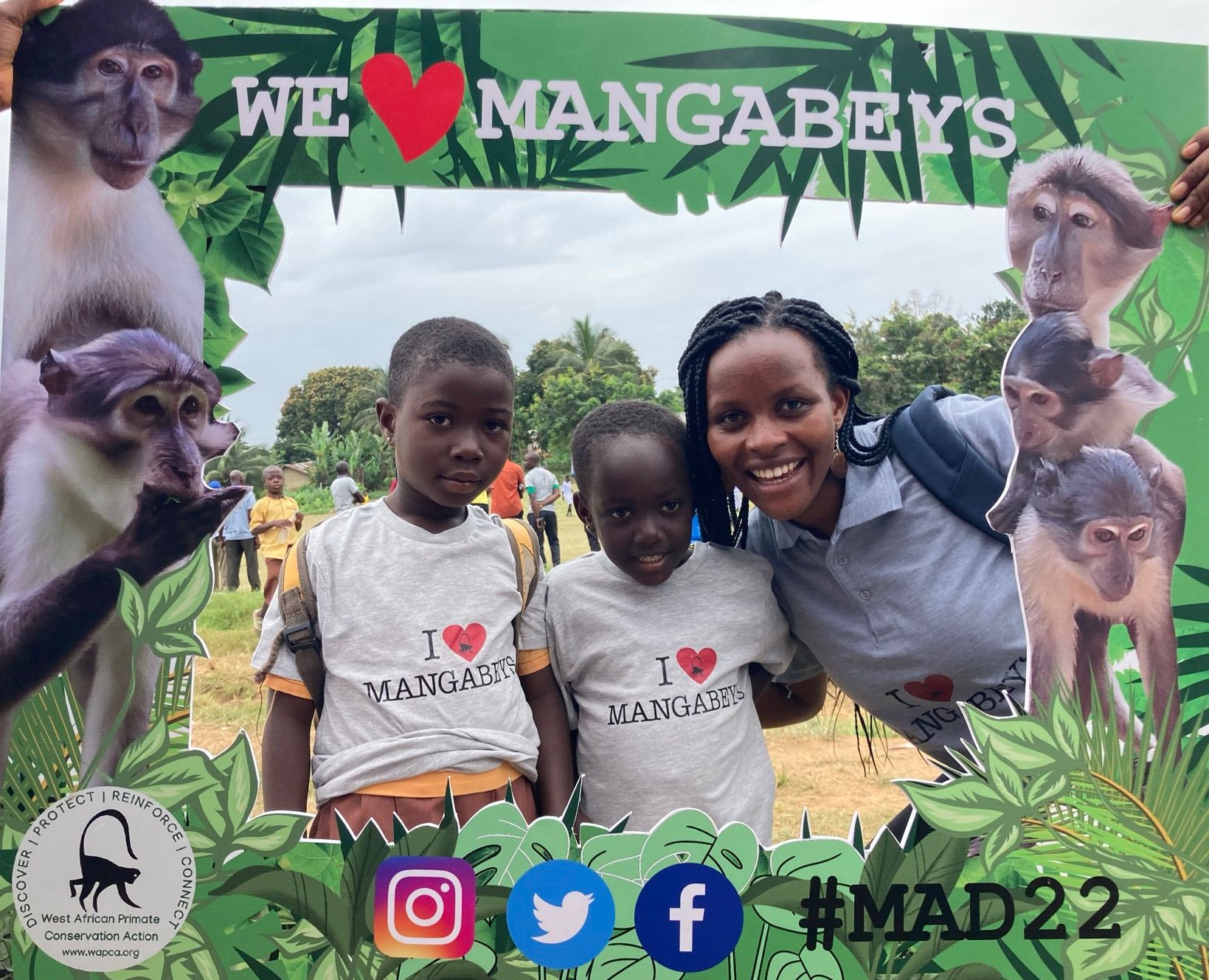 Interview of Veronica Dandzo-Adzagudu – WAPCA, Ghana
Published on 26 January 2023
The NGO West African Primate Conservation Action (WAPCA) is an initiative of Heidelberg Zoo, created in 2001, whose aim is to promote the protection of highly endangered primates in Ghana and Ivory Coast. Veronica Dandzo-Adzagudu, project manager, looks back at the main missions and highlights of the CSO and talks about her commitment to nature conservation.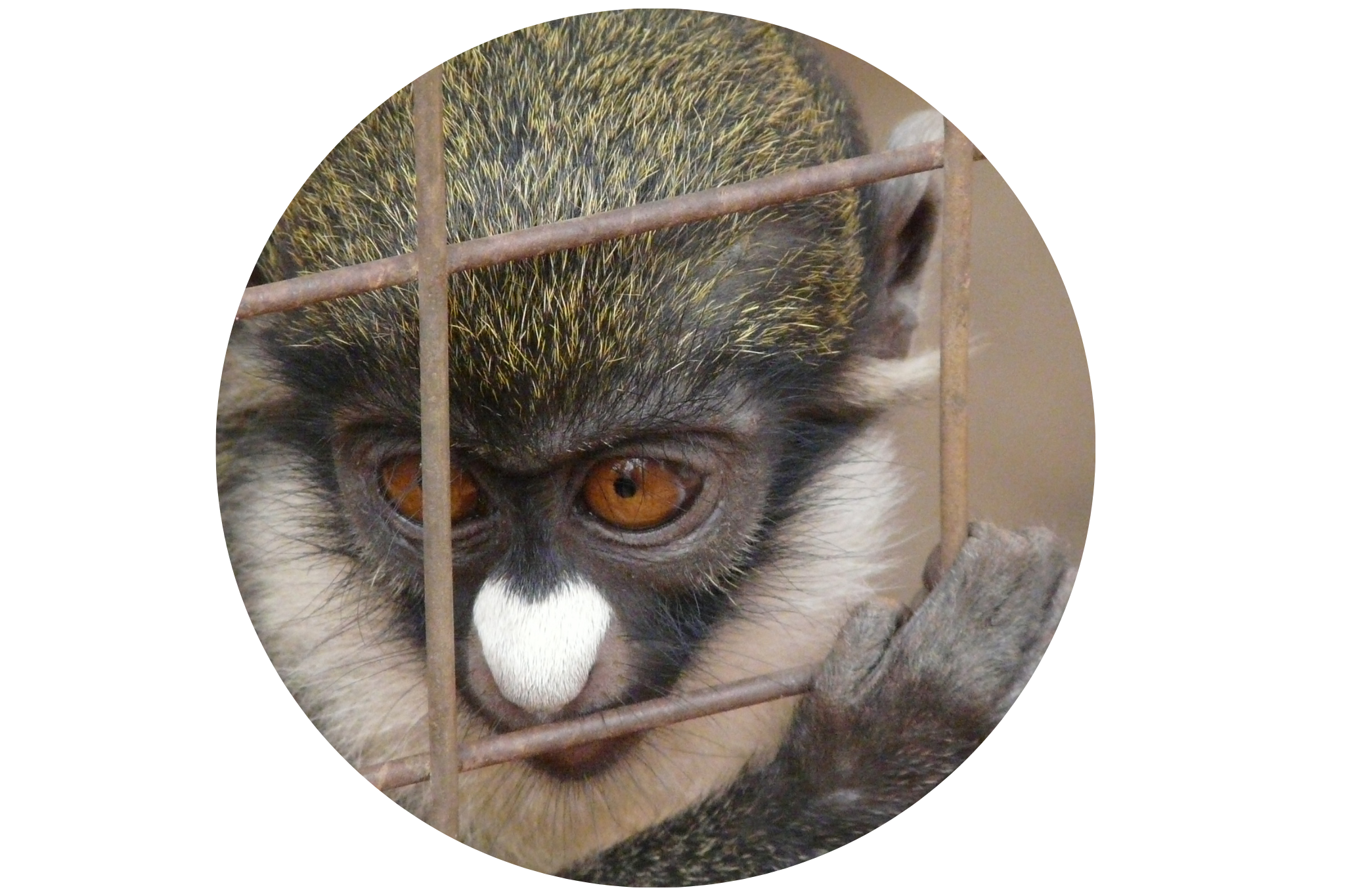 « For me, WAPCA's greatest achievement is the establishment of the Ankasa-Tano Community Resource Management Area, which supports the conservation and management of the Ankasa-Tano rainforest in the Western Region of Ghana. »
Veronica, you are the Project Support Officer at the West African Primate Conservation Action. Tell us about your organization.
West African Primate Conservation Action (WAPCA) is a Ghanaian conservation NGO founded in 2001 by Heidelberg Zoo with a mission to safeguard the future of endangered primates and their habitats in West Africa through a unique approach to species conservation. This mission is based on four main pillars :
– Discover the current distribution of primate populations across Ghana through systematic surveys of remaining forest fragments.
– Protect these populations through community-based forest protection projects.
– Enhance existing wild primate populations with captive, genetically managed populations in zoos.
– Improve connectivity. This last pillar has two main objectives:
            – The first is to reconnect the remaining forest fragments so that primates can move. In this way, we prevent existing populations from becoming bottlenecked.
– The second is to reconnect humans to Nature, developing an emotional connection to it, as we all care for what we love.
WAPCA works with communities in two forest areas namely: Ankasa-Tano Community Rainforest (also known as the Kwabre Rainforest) and Cape Three Point Forest Reserve, both in southwestern Ghana. We protect the primates there through a variety of complementary actions. These include, for example :
–  reforestation of degraded forest areas,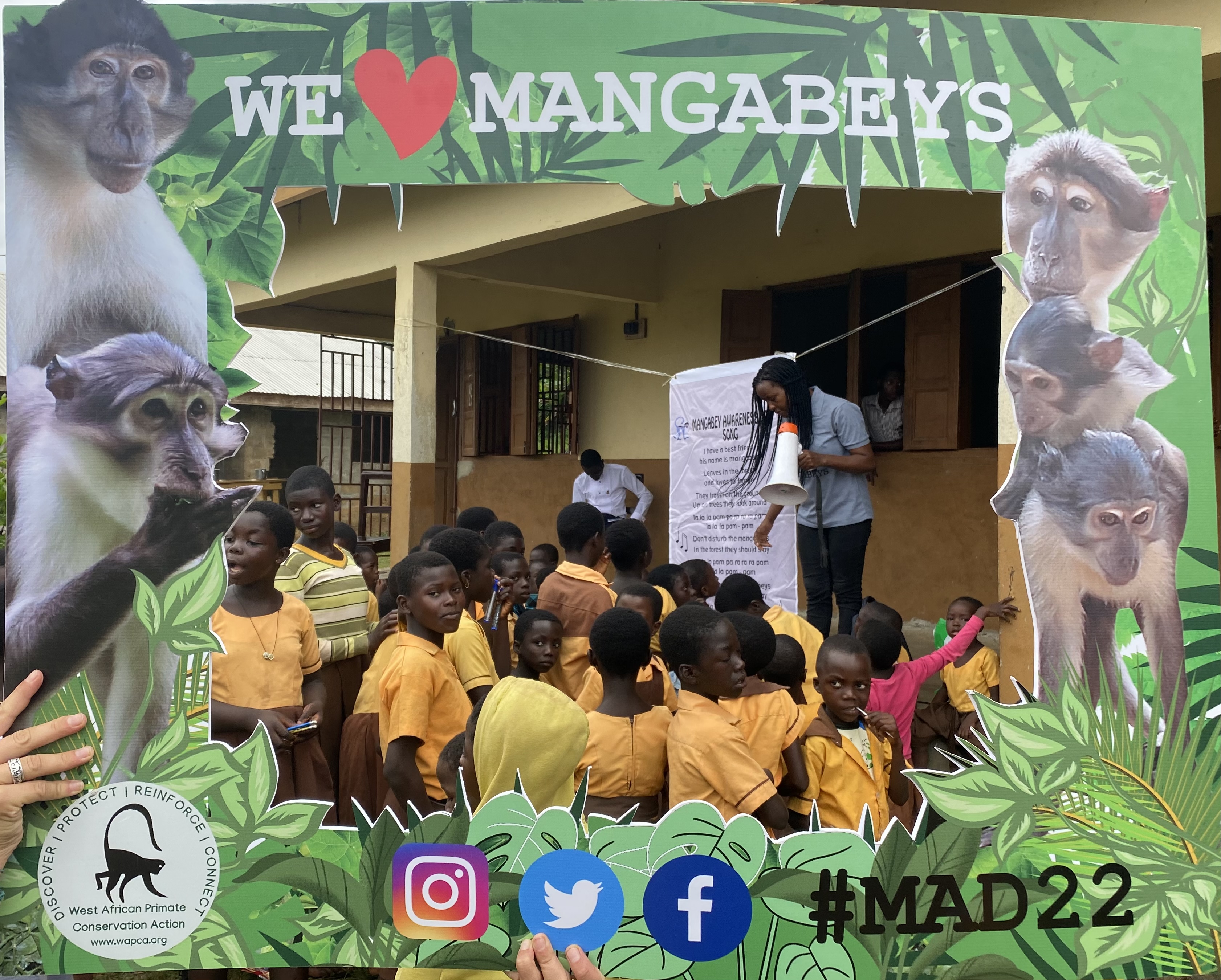 –  education to nature conservation,
–  rescue of primates captured by poachers,
–  ongoing awareness creation through adapted radio programs, facilitation of the Friends for Wildlife program for school children, and the annual Mangabey Awareness Day celebration where WAPCA and communities come together to raise awareness of the conservation status of the white-naped mangabey through a walk, fun activities, including soccer matches between communities.
When and under what circumstances did you personally decide to commit yourself to Nature ?
My interest in nature conservation begun in 2013 when I had an admission to study BSc Natural Resources Management at the Kwame Nkrumah University of Science and Technology (KNUST). During my four years degree programme, I joined A Rocha KNUST which is a student chapter of A Rocha Ghana[1] and completed 3 internships with A Rocha Ghana which exposed me to the practicality of what I was studying in school. I had the opportunity to engage in projects such as data collection on the Atewa Living Waters Project and training of farmers of the Lake Bosomtwe CREMA in conservation agricultural practices. I also received training in grant proposal writing, data analysis, and reporting. Furthermore, I had the opportunity to raise awareness on environmental issues and biodiversity loss in community schools. By the time I was wrapping up with my degree programme in KNUST, I was certain about my career aspirations and of course what I would love to do anytime, any day and anywhere: protecting nature in my best possible way.
[1] A historical partner of PPI, more info on A Rocha on www.programmeppi.org
In your opinion, what is the greatest victory of WAPCA ?
The greatest victory of WAPCA to me, is the creation of the Ankasa-Tano CREMA which supports conservation and management of the Ankasa-Tano Community Rainforest in the Western Region of Ghana which is one of the last two habitats for the Roloway monkey in the world. The capacity of the CREMA communities fringing the rainforest have been built in the past project years through trainings in organization and financial management. There was also a major effort devoted to the development of green value chains from organic cocoa and organic coconut production/processing that resulted in the establishment and operation of a CREMA-owned virgin organic coconut oil processing center.
The partnership between the CREMA and two private sector actors; Savannah Fruits Company and Yayra Glover Limited led to a successful signing of Conservation Agreements and the setting up of a Conservation Fund which has set the CREMA on its journey to financial autonomy and management and implementation of conservation activities including patrolling the Ankasa-Tano Community Rainforest.
Who is the person who is currently your source of inspiration and why ?
Caleb Ofori Boateng, the Founder and Director of Herp Conservation Ghana is currently my source of inspiration. Caleb has shown extreme diligence towards his career in species conservation in Ghana as he is the first biologist to research amphibians in Ghana and scale-up amphibian conservation efforts in the country. Coming from a Ghanaian background and having made giant strides in conservation inspires me to continue to relentlessly pursue my career goals. His capacity and tenacity to move from researching species to establishing a conservation-based NGO (Herp Ghana) and wining prestigious awards to achieve so much for amphibians and local communities living on the fringes of important amphibian habitats remains a life-time source of inspiration to me. Having been once taught by Caleb during my bachelor's programme in KNUST, he continues to encourage me to go higher in my conservation career and is always open to provide me with the needed guidance for career success.
If you were an animal, you would be? Tell us why?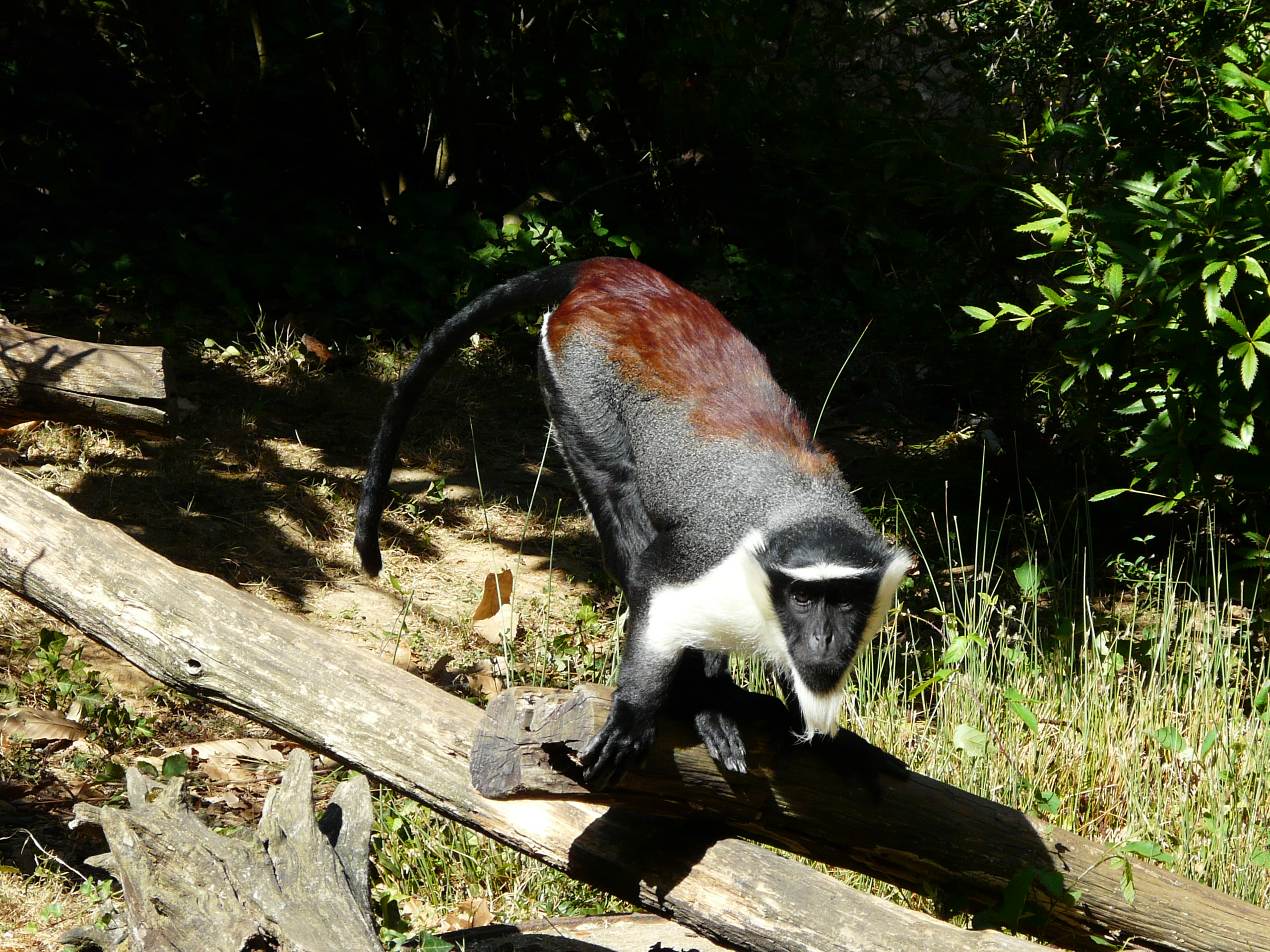 I would be a primate precisely a Roloway monkey, if I were an animal as primates are the closest relative to humans and their ability to communicate their emotions and feelings to one another fascinates me a lot. Also, I am attracted to the spectacular white beard and the combination of white, black and brown reddish furs of the Roloway monkey which make it a unique and beautiful monkey.
If you had an extraordinary magical power, what would you want to change? 
I would make the Government of Ghana rescind its plan and actions already taken to go ahead with the development a Petroleum Infrastructure Master Plan also known as Petroleum hub in the Ankasa-Tano CREMA landscape as portions of the hub falls within ecologically sensitive areas particularly, the Ankasa-Tano Community Rainforest which is a crucial habitat for endangered primates including the Roloway monkey. Instead of a Petroleum hub, I would make the Government to create and scale-up more sustainable green jobs such as organic cocoa and coconut oil production that will benefit both people and nature in the area.
What advice would you give to young Africans who, like you, want to get involved in the associative life for the benefit of Nature?
Know what interests you most, have a vision and set achievable goals for yourself! As a young person, it is very important for you to have an idea of where you are going as this helps you determine the minute steps to take to achieve your goals in life. Mentors provide invaluable guidance for the career success of younger persons, so identify a mentor who has expertise in the area you want to specialize. Additionally, be open-minded, give in your best and identify and make good use of opportunities to undertake activities such as volunteering, internships, presentations at conferences and workshops as you get to garner experiences that make you stand out among your peers.
[1] Historic partner of PPI, fore more information about A Rocha : www.programmeppi.org
[2] Community Resource Management Area : a protected area status recognised by the Ghanaian administration
Faisons connaissance,
suivez nous sur les réseaux ou contactez-nous